Do you suspect your home has roof hail damage, and now you have to haggle with your insurance company?
No matter where you are, there are always unfortunate weather events. During the summer months, pop-up storms from humidity can lead to hail. Dense ice of unpredictable weight falling from the sky at top speeds spells disaster for your roof's condition over time.
Is your home's roof a potential victim of hail damage?
If so, listen up! Today, we'll discuss how to file a roof insurance claim and also other points to note when it comes to identifying any hail damage from a possible hail storm.
First, how does hail damage occur?
Hail storms are not too common, but they make their mark. Literally.
Like wind damage can destroy asphalt shingles, hail can do the same, leading to expensive repairs. The size of the hail often determines the extent of hail damage. On impact, hail can cause slit or cracked shingles, loose granules, dents (if you have a metal roof), and further damage to other roofing fixtures like roof vents, pipe boots, roof flashing, and gutters.
Your entire roof feels the shock, and heavy damage can lead to extensive roof repairs and even roof replacement. Generally, your roof can withstand a hail storm. However, insurance coverage can be a savior in the event of multiple storms over time or a significant hail storm.
Most insurance companies like State Farm and so on cover damage from hail strikes, and you can often navigate the entire process with local contractors in your area. Hail damage is not just cosmetic damage, it can lead to leaks and further damage to your roof if not addressed.
Tips to Make a Roof Hail Damage Claim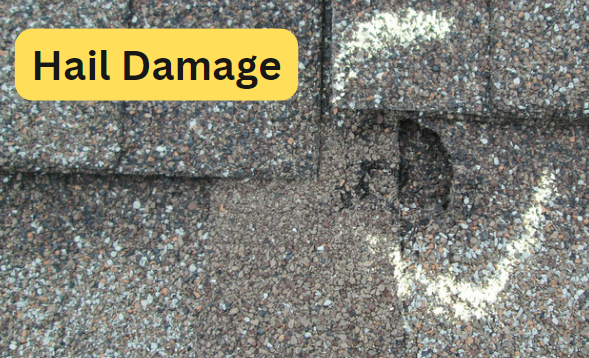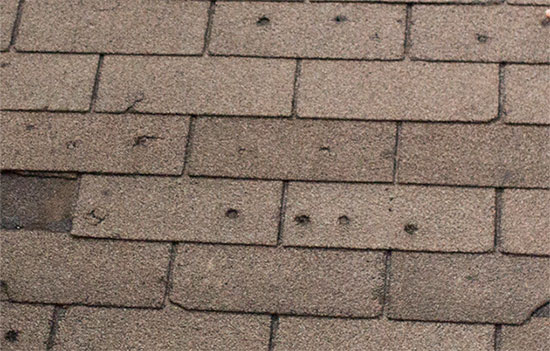 1. See what your policy covers from your insurance company
To start on the right foot, start by seeing what your home insurance policy covers, and you can request a detailed breakdown if necessary to see if hail damage has been covered. If so, when it comes to coverage, does it deal with replacement cost or actual cash value (depreciated value of your roof)?
2. Assess damage from a hail storm
Inspect your entire roof and home, for that matter, to see if there are any remnants of hail damage, ideally by a qualified roof inspector. Ideally, you want to have a good idea about the extent of the damage before starting a claim with your insurance company.
3. Get repair estimates
Get a quote on repairs needed to get you back to where you were before the damage from local roofing contractors–a written estimate by them directly is ideal. While most insurance companies will send an insurance adjuster to determine the total cost of your roof damage, don't let that be the end all be all. Bring second eyes to the table to ensure you're getting a fair assessment.
4. Make a roof insurance claim ASAP!
You will want to make a roof insurance claim with your insurance company pretty quickly once you determine the extent of your hail damage. Remember, when filing a claim, be sure to do so as soon as possible, because generally, standard homeowners insurance accepts hail damage claims with a time limit (varies) set in your insurance policy, and therefore, according to the Insurance information institute, policyholders need to file a claim promptly.
If approved, your insurance provider will pay in either replacement cost or actual cash value mentioned earlier.
There is not one size fits all to the insurance claim process; many homeowners may find that their homeowner's insurance covers anything BUT hail damage or have it as an add-on to your policy (review first step!).
5. Keep accurate records at all times
Be sure to save correspondence, photos, and any necessary documentation that pertains to the filing of your claim form start to end just in case if there is any need to provide evidence to support your claim. The key is convenience in supporting your case, because, hey, you want to get paid what you deserve!
Don't Slip Up! Lack of Roof Maintenance comes full circle.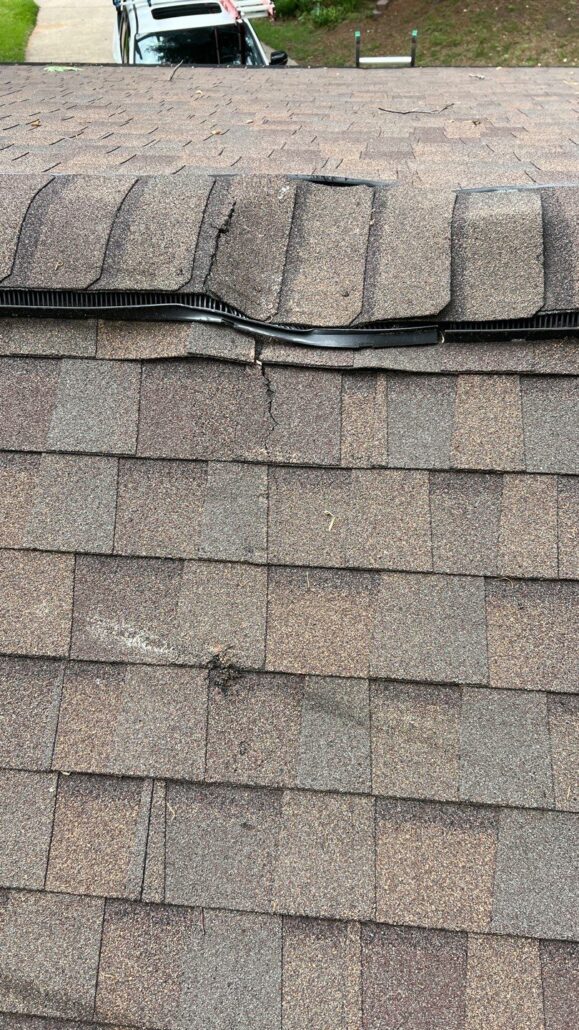 Remember that lack of maintenance on your part is the fastest way to get any claim denied or any coverage you may need at the moment. An old, out-of-date, or unkempt roof will undoubtedly be a red flag for any insurance company and will stop you from a full reimbursement.
In many cases, homeowners insurance covers roof damage hail, but some companies payout based on the age of your roof if your insurance policy covers hail damage; after you file a claim, an adjuster will evaluate your roof.
If your claim is approved, you can work with a roofing contractor to determine the best course of action (a roof repair vs. a roof replacement).
Will a roof claim increase my insurance premium?
If you file a claim for hail damage and your insurance claim is approved, there is an off chance it can increase or decrease your insurance premium. Yes, you read that correctly.
When you file a claim, ask your insurance company if the claim will increase your premium. While we cannot generalize every situation, in most cases, your premium will not increase. However, your premium may increase if you have filed many claims or your roof is susceptible to more hail damage.
On the positive side, a new roof on an older home is viewed as an asset and can sometimes lower your insurance costs!
Standard home insurance: Where can I find the right home insurance policy?
Insurance companies are not few and far between these days, and you can find local roofing contractors in your area employed by them who are ready to help at the drop of a hat with a quick search online and call. Verify if their home insurance policies cover hail damage and related roof repairs.
Your current insurer, you most likely have one, can give you a rundown of the homeowner's insurance policies that apply to your situation. Talk with an insurance agent more specifically about your dwelling coverage portion of your homeowner's insurance to see what's covered or not if hail damage hits your home. Details matter!
What's the verdict?
Hail damage is not a sight anyone wants to see on their roof, let alone having to go through the roof claims process. Yikes!
In an unpredictable world, you learned how to file a claim in case the worst-case scenario happens appropriately, and the best thing isn't that hard to do when you understand it. Preparing to win is always crucial! If you have any questions about roof claims, feel free to reach out, and we'll be sure to help.
If you think you need a roofing inspection, feel free to reach out to Top Dog Home Pro here: