5 DIY Halloween Door Decorations
The air is finally getting crisp as we say goodbye to summer and hello to autumn. And this, of course, means that Halloween is right around the corner! Whether you like to walk through haunted houses, dress up for costume parties, or spend the evening on your porch passing out candy and enjoying the cool weather, this time of year is fun for all.
Spruce up your place this Halloween with a few easy, DIY door decorations.
Frankenstein's Monster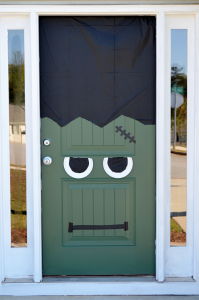 (Image from Green and Gorgeous)
Got a green door? Use it to your advantage with this Frankenstein decoration.The best part is you can make it simple or complex, and you can still get the Frankenstein effect. Check out an easy tutorial here.
The Monster Mash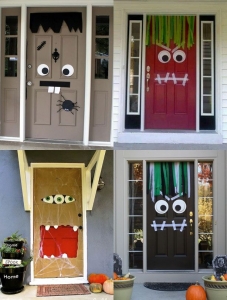 (Image from DIY Cozy Home)
Make it as silly or scary as you like. Work with the color of your front door and add eyes, teeth, and any other traits you want your monster to have. This option has lots of room for creativity. Try winging it on your own and see what you can create!
Going Batty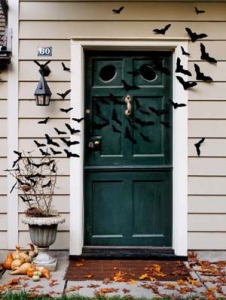 (Image from Country Living)
If you like a cleaner look, perhaps working with a template is better for you. Download a bat template here to create dozens of bats flocking in front of your door. When finished, you get a spooky and sophisticated look.
The Mouth of the Beast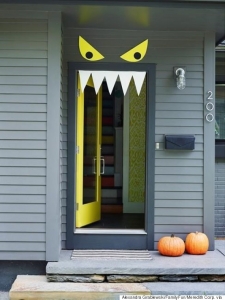 (Image via Huffington Post)
A variation of the monster door, this option is minimal effort, maximum impact. Cut out some sharp teeth and peering eyes and let your door do the rest. Want to recreate this look? Check out some simple steps here.
Caution Tape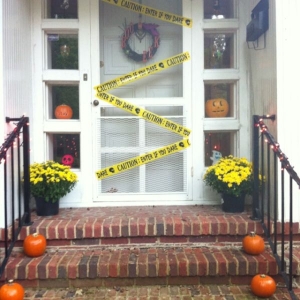 (Image from HomeEdit)
The perfect option for a procrastinator. Sometimes Halloween can creep up on you (get it?). For this quick, classic decoration, all you need is a trip to your local party store or Halloween pop-up to grab caution tape and a few minutes to decorate as desired.
Happy Haunting!
Top Dog Home Pro: Roof & Gutter Specialists (here is why):
Here at Top Dog Home Pro, we have come to realize during our time in the exterior remodeling industry that too many companies try to do too many things. In the past, we have offered windows, siding, and door services in addition to our staple – Roofing & Gutters. However, in 2020 during the Covid-19 Pandemic, we shifted our focus to offering the best roofing and gutters services in order to specialize. The forced pivot allowed us to truly provide the utmost service when it came to new roofs, gutters, and gutter guards without stretching ourselves too thin in other areas. So if you happen to have a question regarding siding or windows, we have articles in our education center to help, but for the foreseeable future, our exterior services will be focused on just new gutters and roofs!