[av_section min_height='custom' min_height_px='500px' padding='default' shadow='no-border-styling' bottom_border='no-border-styling' bottom_border_diagonal_color='#333333′ bottom_border_diagonal_direction=" bottom_border_style=" custom_arrow_bg=" id=" color='main_color' background='bg_color' custom_bg='rgba(237,174,68,0.72)' background_gradient_color1=" background_gradient_color2=" background_gradient_direction='vertical' src='https://tdhomepro.com/wp-content/uploads/2018/10/halloween_front-porch_banner.jpg' attachment='899′ attachment_size='full' attach='scroll' position='center center' repeat='stretch' video=" video_ratio='16:9′ overlay_enable='aviaTBoverlay_enable' overlay_opacity='0.7′ overlay_color='#565656′ overlay_pattern=" overlay_custom_pattern=" av_element_hidden_in_editor='0′ av_uid='av-jm2pye36′]
[av_heading heading='From Silly to Spooky:' tag='h2′ style='blockquote modern-quote' size='35' subheading_active='subheading_below' subheading_size='25' margin=" margin_sync='true' padding='10' color='custom-color-heading' custom_font='#ffffff' av-medium-font-size-title=" av-small-font-size-title=" av-mini-font-size-title=" av-medium-font-size=" av-small-font-size=" av-mini-font-size=" av_uid='av-jn0m3zaq' admin_preview_bg="]
5 DIY Halloween Door Decorations
[/av_heading]
[av_textblock size=" font_color='custom' color='#ffffff' av-medium-font-size=" av-small-font-size=" av-mini-font-size=" av_uid='av-jm9w03m5′ admin_preview_bg="]
Written by: Grace Sovine
[/av_textblock]
[/av_section]
[av_one_full first min_height=" vertical_alignment=" space=" custom_margin=" margin='0px' link=" linktarget=" link_hover=" padding='0px' border=" border_color=" radius='0px' background='bg_color' background_color=" background_gradient_color1=" background_gradient_color2=" background_gradient_direction='vertical' src=" background_position='top left' background_repeat='no-repeat' animation=" mobile_breaking=" mobile_display=" av_uid='av-7sxac']
[av_textblock size=" font_color=" color=" av-medium-font-size=" av-small-font-size=" av-mini-font-size=" av_uid='av-jm2qb7vc' admin_preview_bg="]
The air is finally getting crisp as we say goodbye to summer and hello to autumn. And this, of course, means that Halloween is right around the corner! Whether you like to walk through haunted houses, dress up for costume parties, or spend the evening on your porch passing out candy and enjoying the cool weather, this time of year is fun for all.
Spruce up your place this Halloween with a few easy, DIY door decorations.
Frankenstein's Monster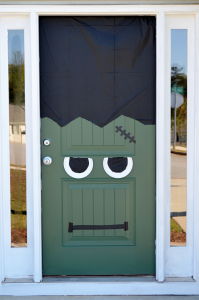 (Image from Green and Gorgeous)
Got a green door? Use it to your advantage with this Frankenstein decoration.The best part is you can make it simple or complex, and you can still get the Frankenstein effect. Check out an easy tutorial here.
The Monster Mash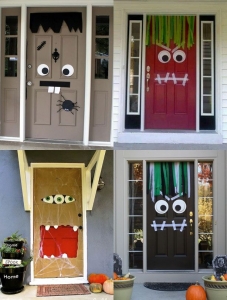 (Image from DIY Cozy Home)
Make it as silly or scary as you like. Work with the color of your front door and add eyes, teeth, and any other traits you want your monster to have. This option has lots of room for creativity. Try winging it on your own and see what you can create!
Going Batty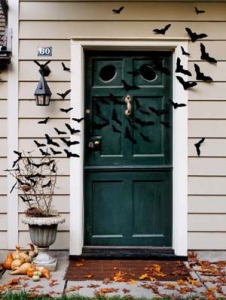 (Image from Country Living)
If you like a cleaner look, perhaps working with a template is better for you. Download a bat template here to create dozens of bats flocking in front of your door. When finished, you get a spooky and sophisticated look.
The Mouth of the Beast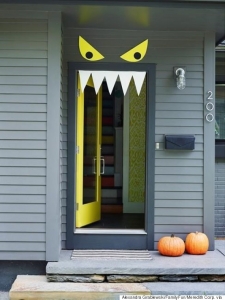 (Image via Huffington Post)
A variation of the monster door, this option is minimal effort, maximum impact. Cut out some sharp teeth and peering eyes and let your door do the rest. Want to recreate this look? Check out some simple steps here.
Caution Tape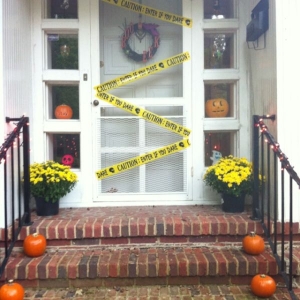 (Image from HomeEdit)
The perfect option for a procrastinator. Sometimes Halloween can creep up on you (get it?). For this quick, classic decoration, all you need is a trip to your local party store or Halloween pop-up  to grab caution tape and a few minutes to decorate as desired.
Happy Haunting!
[/av_textblock]
[av_hr class='default' height='50' shadow='no-shadow' position='center' custom_border='av-border-thin' custom_width='50px' custom_border_color=" custom_margin_top='30px' custom_margin_bottom='30px' icon_select='yes' custom_icon_color=" icon='ue808′ font='entypo-fontello' av_uid='av-11nx4s' admin_preview_bg="]
[av_contact email='[email protected]' title='Ready to find out more?' button='Submit' on_send=" sent='Your message has been sent!' link='manually,http://' subject='Blog inquiry' autorespond=" captcha=" form_align=" color=" av_uid='av-jm2ru4b9′ admin_preview_bg="]
[av_contact_field label='First Name' type='text' options=" check='is_empty' width='element_half' av_uid='av-xv8lw' multi_select=" av_contact_preselect="][/av_contact_field]
[av_contact_field label='Last Name' type='text' options=" check='is_empty' width='element_half' av_uid='av-rgwxw' multi_select=" av_contact_preselect="][/av_contact_field]
[av_contact_field label='E-Mail' type='text' check='is_email' options=" multi_select=" av_contact_preselect=" width=" av_uid='av-ll710′][/av_contact_field]
[av_contact_field label='Subject' type='text' check='is_empty' options=" multi_select=" av_contact_preselect=" width=" av_uid='av-duo0s'][/av_contact_field]
[av_contact_field label='Message' type='textarea' check='is_empty' options=" multi_select=" av_contact_preselect=" width=" av_uid='av-a957o'][/av_contact_field]
[/av_contact]
[av_blog blog_type='posts' categories='37,41,14,15,32,50,53,1,45′ link='category' blog_style='blog-grid' columns='5′ contents='excerpt_read_more' content_length='content' preview_mode='auto' image_size='portfolio' items='5′ offset='0′ paginate='yes' conditional=" av_uid='av-jm9w7ixr']
[/av_one_full]