Gutter repairs are not something you often think about as a homeowner.
When it comes to the exterior of your home, a few things are integral to ensuring it's well protected, like the roof, the siding, the windows, the doors, and last but not least – the gutters!
They all work cohesively together to make sure your home is protected from the elements mother nature provides, but your gutters might do more than you think! Today, we are going to cover the topic of "Gutter Repairs," and everything you need to know.
We will cover:
Signs you might need a gutter repair
Our gutter repair process
Gutter repair options
Gutter repair costs
Warning Signs You Might Need Gutter Repairs:
Your gutters are vital for the foundation of your home and they are one thing that can undermine the functionality of your home's resistance to weather when they need repair.
In fact, improperly installed and/or broken gutters are one of the leading reasons homeowners experience leaks and foundational issues. Typically, your gutters are not something you give much thought to as it pertains to being a homeowner. This is both a good and bad thing.
Since gutters are higher up, it can be challenging to assess if they're working correctly and if they're clean. Clogged gutters are the leading cause of gutter repairs, and typically, most gutters go unnoticed until there is a very obvious problem!
Unlike our car, which has icons on the dashboard that make us aware of potential issues, our gutters are not so communicative. That being said, there are signs that can be noticeable and can perhaps indicate your home is in need of gutter repairs!
11 Signs you might need a gutter repair include:
If you notice your gutters leak
Noticeable gaps between your gutters and fascia boards
Sagging gutters (seamless gutters tend to do this if they are compromised)
Water flies off your roof during rainstorms
Sectional gutters that leak from sealant
Mismatched gutter elbows, downspouts, and pieces.
A breach in gutter sealant
A tree branch or wind has visually damaged your gutters
The wind has displaced your seamless gutters completely (missing)
Your fascia boards are rotting. Thus your gutters are unable to work properly
Using cheap gutter guards that clog
These signs above can indicate whether or not you need to repair your existing gutters.
When it comes to assessing whether or not your home is in need of a gutter repair, the best thing to do is call and have a gutter company come out and check your gutters. Frequently, during a gutter cleaning appointment, many problems can be found.
The Gutter Repair Process –
So let's hypothetically say you need to have your gutters repaired, or at the very least, have your gutters inspected by a professional gutter company.
What you want first to do is get an honest opinion and transparent pricing from the company. Here is our process when we must repair seamless gutters:
Typically, we assess the situation to see what the problem is (sometimes they are just clogged!)
Next, we determine if a repair is possible, but also if the repair is a long-term solution
If the repair is possible, we will give you the homeowner a pricing estimate
In the case where the repair will not be a long-term solution or the gutter repair prices exceed new gutters, we often recommend replacing your seamless gutters
Let's take a deep look at point number two above.
If a gutter repair is possible is not the determining factor in getting your gutters repaired. As we uncover the different gutter repair options below, keep in mind that the most essential item to consider is will the gutter repair last.
Something can always be repaired, but what if the repair lasts only a matter of weeks or months? In that case, it's most likely better to consider replacing those gutters.
However, if a gutter repair is necessary, typically, the process involves:
sealing a leak,
reinstalling a gutter section,
helping out with a clogged gutter or downspouts
correcting a small issue.
On the other hand, if the gutters are falling off because the gutters are compromised or still use gutter spikes, there are several options.
Gutter Replacement Options – why replacing is almost always better!
In all our years of experience, the best bet for a gutter repair is almost always a gutter replacement. Let us touch as to why.
First, if your gutters need repair, most of the time, the problem has gone unnoticed for some time. Remember the signs of a repair from above? Usually, those signs mean the problem is pretty large, and the damage is often done.
Don't get us wrong, there are simple fixes like unclogging a gutter, adding some sealant, or correcting a drainage issue. However, in most cases, a rain gutter system in dire need of attention is simply corrected with replacement.
Brand new, seamless gutters are relatively inexpensive when it is all said and done, and when a repair price starts to get over $400, it is typically worth simply replacing your gutters.
New gutters come with a gutter warranty (when we install them) and they often have updated features like the screw-in hidden hangers. Most homes with older gutters have the classic, long gutter spikes that over time become ineffective in keeping your gutters mounted to your home.
Also to point out, when gutters are replaced with new 5-inch or 6-inch gutters, what typically occurs too is an inspection of the fascia boards and their condition. This is KEY to replacing gutters because we never put new gutters on damaged fascia boards!
And as you will see in a few, gutters are not very expensive. However, the value they had is superior.
>> Check out our New Gutter Warranty info here.
Best way to find a gutter repair company near you:
The best way to find a gutter repair company "Near Me" is to simply choose one of the following options:
Search online for a "Gutter Repair Company Near Me," followed by checking their reviews and website content
Ask a friend who knows someone in the industry
Log on to Facebook and look for a recommendation
Gutter Guards
Another solution is to consider adding gutter guards to your new seamless gutters.
Keep in mind there is a huge difference between a gutter guard and cheap gutter screens. The entire point of gutter guards is to protect your gutters from pine needles, leaves, and other debris like bird nests from clogging your gutters.
The upside to choosing the right gutter guards is that you won't have to worry about cleaning them anymore either. Gutter guards that require gutter cleaning are pointless – just clean your gutters.
However, that is why we promote and exclusively only use Raindrop Gutter Guards! Learn more about them here!
Gutter Repair Costs:
As we mentioned earlier, gutter repair costs can vary!
Typically, for something minor like finding a clog, we don't charge necessarily if we find it. If we need to seal something or replace an elbow or miter, it could be $75 to $150.
If the costs exceed $400, we typically recommend replacing gutters.
Why?
New 6-inch gutters cost somewhere around $8-$10.50 per linear foot on average.
To outfit a single-family home, a homeowner might be looking at a price of $1,500-$2,500 for all new gutters.
If a gutter repair is $450 and the gutters are older, compromised or you have sectional gutters, the long-term solution is to just get new gutters. Most companies don't deal with sectional gutter repairs so on the off chance you have those, it is better to go with a new gutter installation solution.
To learn more about gutter pricing, check out this video here and also these resources:
Gutter Guards & Gutter Cleaning Info: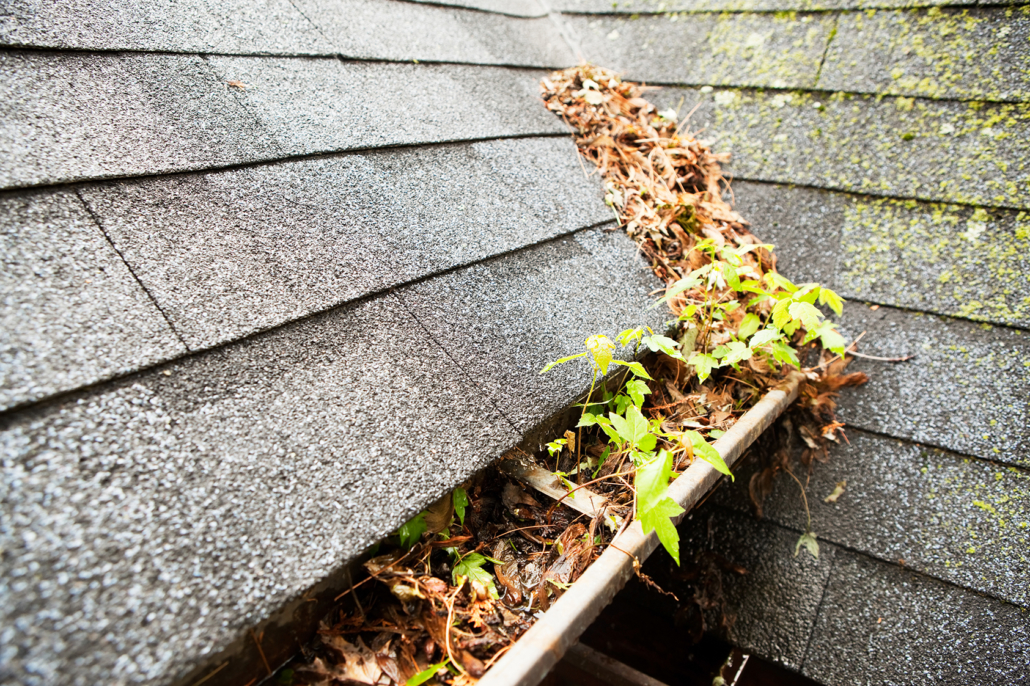 The best way to avoid having to repair your existing gutters is to take care of them in the first place. You can care for your gutters in one of two ways:
Get annual gutter cleaning each fall
Install a self-cleaning gutter guard system like Raindrop
The cost factors influence your decision, but over time the overall cost of cleaning will be more after 5-6 years vs installing gutter guards. The gutter repair cost will cost significantly more because, as we mentioned earlier, in most cases, a gutter repair often means new gutters.
Gutters are designed to channel and displace rainwater from your roof, not hold the weight of water for extended periods of time. Gutters that are clogged with leaves and other debris are the leading cause of leaky gutters and gutter repairs.
If cleaning your gutters is too much work and you don't want to pay someone to do it each year, consider protecting your gutters with gutter guards. Just remember, not all gutter guards are created equally.
⭐⭐⭐⭐⭐ You can read about our gutter guard rankings here! ⭐⭐⭐⭐⭐
Final thoughts on gutter repairs:
When in doubt… get those gutters checked out!
Don't wait around if you have a hunch that something is wrong with your gutters. Most gutter companies will give you a free estimate/look; if they find something, they will let you know.
A gutter repair can be simple, or it might just be worth replacing your gutters! Additionally, if you don't need to repair your gutters, you can
➡️ You can check out our review here of the Raindrop Gutter Guard system and learn about the lifetime, the no-clog warranty they come with!
Frequently Asked Gutter Questions
What are the most common gutter services?
The most common gutter services include replacing your current gutters, cleaning gutters, adding gutter guards, and fixing gutters. Most homeowners have seamless aluminum gutters and should not have to replace their gutters unless they have cracks, leaks, or sealant issues.
What are rain gutters?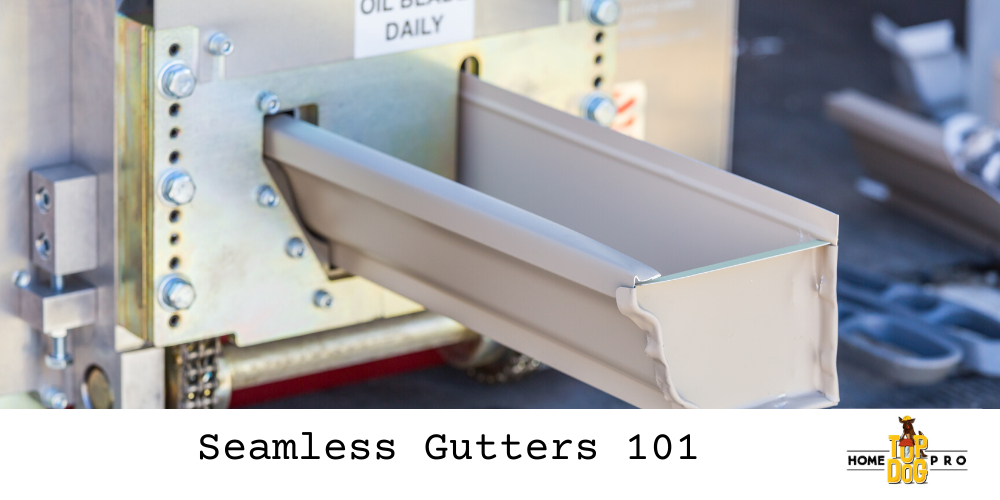 Rain gutters are channels or drains attached around your home where the edge of your home's wall (fascia board) meets the roof's edge. Water is collected during storms by your roof and then flow to your gutters which displace the water away from your home. Rain gutters are vital for your home's foundation.
Why do gutters leak?
Your gutters may leak for numerous reasons, from common clogs to rotting fascia board issues. When your gutters become clogged, they do not work properly, and they will start to pull away from your home and overflow. The most common cause of a gutter leak is a clog or uncleaned gutters.
Weather damage and gutters in poor condition can be easily compromised.
Are gutters expensive?
Pricing for gutters comes down to material pricing and labor cost. Most gutter pricing is done by the linear foot, and labor is included in the price. The more materials that are required, the more the cost of replacing your gutters will be.
On average, you should expect to pay $8-1$10 per linear foot for new seamless gutters.
What does a common gutter repair cost?
A simple gutter repair like getting rid of old spikes or repairing small cracks can be a few hundred dollars. When you have to replace a large section of gutters or extensive water damage, sometimes it is worth getting new rain gutters.
We have a detailed guide on gutters you can read here!
What are gutter materials?
Common gutter materials are priced by the linear foot and include steel, copper, zinc, aluminum, galvanized steel, and vinyl gutters. The most common and most affordable are seamless aluminum gutters.
Never use vinyl sectional gutters! Vinyl is cheaply made, doesn't last long and only comes in sections. Sectional gutter repairs are more common because they are susceptible to cracks, small holes, and leaking at the seam. The best way to repair gutters is to start with getting the best material!
>> Just check out our review here of the Raindrop Gutter Guard system and learn about the lifetime, the no-clog warranty they come with!
Additional Gutter Resources: