We don't skirt around the fact that here at Top Dog Home Pro, we think CertainTeed Shingles are the best.
Some may say that the previous statement is just an opinion; however, talk to any reputable roofing contractor, and they will tell you Certainteed shingles are known for their quality, durability, and affordability.
You might be wondering why CertainTeed shingles are the best, and today, we will lay it all out for you so you can make a confident decision when replacing your home's roof!
See Also: Comparing Certainteed Shingles vs. GAF Shingles
History & About CertainTeed Shingles
Unlike GAF, which used to be in the toy-making business (see view-master toy), CertainTeed has led the roofing industry for over 100 years in products and shingles. Founded as "General Roofing Manufacturing Company" in 1904, the company's name was changed in 1917 to Certain-Teed from its slogan "Quality made certain, Satisfaction Guaranteed."
From 1917 CertainTeed grew as the premier asphalt shingle manufacturer and leader in North America, employing 6,300 people. The Landmark series is one of the premier asphalt shingles in all of the United States, and roofing contractors everywhere recognize the quality and reputation!
Pros: Why Contractors & Homeowners Like CertainTeed Shingles
Regarding picking out shingles for your roof replacement, CertainTeed shingles will be at the top of the list, alongside GAF and Owens Corning. Sometimes your selection will depend on the contractor you hire, but in reality, you should choose the best shingle, not just what a contractor offers.
Below, we will list a few of the pros as to why top roofing contractors use Certainteed shingles:
Thicker layers: Landmark shingles are a heavyweight brand and offer superior quality. We tell customers to pick up a bundle of GAF shingles and pick up a bundle of CertainTeed Landmark shingles; you will FEEL the difference at 300 pounds per 100 square feet. This means more durability!
Fair pricing: As the saying goes, you get what you pay for. Certainteed landmark shingles are right in line with competitor pricing, and in cases where it is slightly higher, the real savings come in the warranty and quality of the material!
Premium design: Landmark shingles offer variety in color and dimension as well as luxury shingles. The blends of colors give the feel of "Shake" shingles but with the rugged durability of asphalt shingles.
Color Options: CertainTeed's Landmark series offers a variety of colors to choose from to give your home curb appeal with their architectural shingle line. This also helps with resale values!
Warranty: 130 MPH wind warranties, streak warranties, you name it – their warranty, which we will cover below, is the best!
Selective of installers: CertainTeed has a master shingle installer program that vets roofing contractors who use their shingle products. This protects you as the homeowner ensures your warranty and prevents a shoddy job during your roofing installation.
Cons: Problems with CertainTeed Shingles
Opponents of CertainTeed shingles can only say one bad thing about the shingles;
The price.
Any contractor that says other brands of shingles are better is not being honest. The performance, color blends, and durability speak for themselves. While the savings are minuscule in the grand scheme of things, some contractors only use other brands because they are lighter to carry and cheaper for the consumer.
Other brands will also say the extended warranty is priced higher because you have to use only CertainTeed products for the roof system – but this is standard practice for all shingle manufacturers.
Types of CertainTeed Shingles:
When it comes to CertainTeed shingles, there are a few varieties you can pick from:
3 Tab Shingles = XT 25 (basic contractor grade shingles)
Landmark PRO shingles (great choice)
Landmark premium shingles (premium choice)
Luxury asphalt shingles
XT25 3-tab asphalt shingles:
When it comes to weathering for three-tab shingles, the CertainTeed XT 25 is at the top of its class. WIth a fiberglass base, each shingle provides exceptional resistance to blow-off and tearing and has a 10-year StreakFighter® warranty, and is priced economically.
Three-tab shingles aka strip shingles don't offer a ton of variety compared to Landmark Pro shingles and are considered the most basic asphalt shingles you can purchase. Color varieties include:

Landmark PRO & Premium architectural asphalt shingles (dimensional shingles):
Landmark PRO & Premium dimensional shingles provide quality and greater durability along with eye-catching Max Def colors. Engineered with two laminated layers to replicate the dimensional appearance of genuine wood shake, giving it the curb appeal many homeowners desire.
The upside to architectural shingles is not only the durability, but the cost to upgrade from contractor-grade strip shingles to dimensional shingles is often minor for most homeowners.

Luxury asphalt shingles:
CertainTeed offers a variety of "Luxury asphalt shingles," which are considered to add more curb appeal and durability, but they cost more as well. Known also as premium shingle types, choices include:
Carriage House style
Grand Manor style
Presidential Shake IR and TL
Landmark IR
Landmark TL
Presidential Solaris
Presidential Shake
Symphony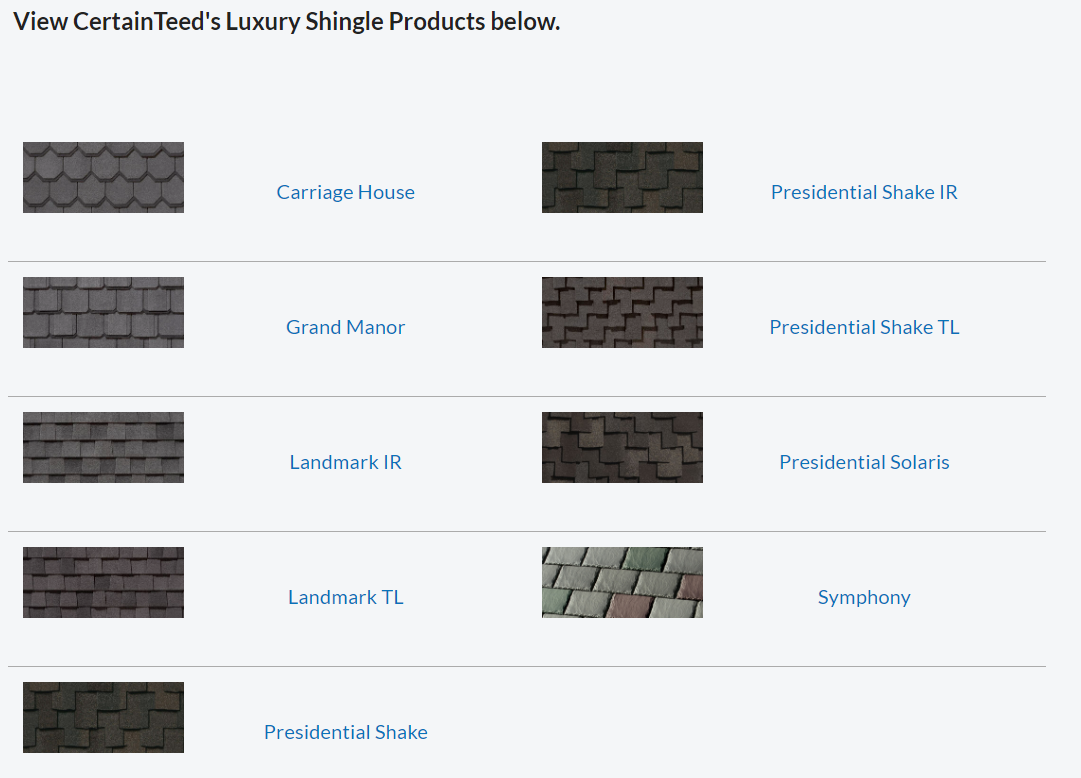 CertainTeed Shingles Prices:
CertainTeed Shingles (from the manufacturer, not installed):
Landmark Three- tab $80 per square
Landmark Premium $120 per square
Landmark Pro $150 per square
Luxury shingles are $175+
Installation costs increase the price of shingles, and roofing companies will purchase shingles before a roof installation. A new roof replacement consists of tearing off the old roofing shingles and installing underlayment, drip edge, new shingles, flashing, and ridge vents. All in all, this pushes the installation price to $400 on the low end up to $700 on the higher end per square.
One square = 100 square feet. So if you need 20 square of shingles (2,000 square feet) at $500 per square installed, this means your roof replacement cost would be $10,000 – right in line with the national average.
Warranty Claim And Extended Warranty Info:
Highlights of CertainTeed's warranties include:
Lifetime limited transferable warranty – residential
50-year limited transferable warranty – group-owned or commercial
15-year StreakFighter® warranty
10-year SureStart™ protection
15-year 110 mph wind-resistance warranty
Wind warranty upgrade to 130 mph available. CertainTeed starter and CertainTeed hip and ridge required.
When it comes to an understanding the last two points, CertainTeed ensures their shingles will withstand 110mph winds for 15 years. However, if you also use their starter shingles and hip/ridge-required roofing materials, your roof is guaranteed up to 130 mph.
A roofing contractor that uses CertainTeed shingles should always be a Master shingle installer and use all roofing system components. Roofing companies with a solid reputation will not use multiple manufacturer products.
Why does any of this matter?
You might be wondering why wind speeds and your asphalt shingles matter. Ensuring 130 mph coverage protects you from wind gusts up to 130 MPH during a category three hurricane.
A Category 1 hurricane has winds of 74 to 95 mph,
A Category 2 hurricane has winds between 96 and 110 mph
Category 3 is considered a major hurricane with winds of 111 to 129 mph
The Verdict –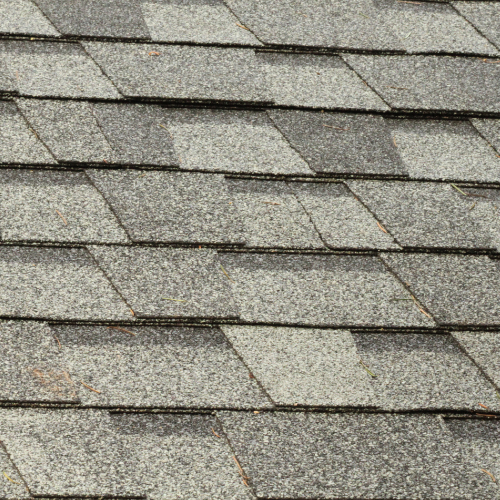 Are we biased about Certainteed asphalt shingles? You bet!
Regarding roofing shingles, we only use the best for our homeowners because we recognize that quality and longevity are the most critical factors for a new roof. While some roofers will emphasize "Cheap", cutting corners when it comes to roofing shingles isn't a brilliant idea.
Consider the role of a typical asphalt shingle. Their job is to protect your home from mother nature year-round; protection from the elements isn't easy! Roofing professionals rave about CertainTeed materials and the brand's shingle quality!
Frequently Asked CertainTeed Shingle Questions:
What Do Roofers Think About CertainTeed Shingles?
Regarding roofing shingles, Certainteed shingles are always at the top of the list for numerous reasons, and they are widely regarded as the best asphalt shingles for roof replacements. Everything from their durability to longevity as a company makes the Certainteed Landmark shingles and other products the top in the roofing industry.
What is impact resistance for shingles?
Impact-resistant shingles refer to an asphalt shingles' ability to withstand wind, hail, and storms. Most asphalt shingles are designed to last 20 years, and the type of shingles will determine its level of resistance (three-tab shingles vs. dimensional shingles). For example, Certainteed Landmark shingles are able to withstand 130 mph winds during a storm when installed by a Master Shingle installer.
What is the quality of CertainTeed shingles?
Certainteed shingles are known to be some of the best shingle types to choose from. They have luxury shingles, three-tab shingles, and architectural, aka dimensional shingles to choose from. The most popular item is the Landmark Pro Shingles which offer protection from the elements while also adding curb appeal at a reasonable price. When it comes to asphalt roofing – there is no better shingle when you look at it from every aspect (price, durability, curb appeal).
What are CertainTeed shingles?
CertainTeed Shingles are a brand of shingles. When it comes to replacing a roof, homeowners will typically replace their existing shingle roof with asphalt shingles (very few homeowners will install a metal roof). Certainteed shingles are known to be some of the best in the industry, and they offer a wide variety of products, from three-tab shingles to luxury asphalt shingles, such as the Grand Manor variety.